WPHosting
Servers Specifically Designed For
Wordpress Performance, Speed & Security
If you have high traffic sites built on WordPress that require security, speed and scalability, we can run them 3 to 4 times faster.  
WPHosting: Custom Built Servers
Today's demands on websites are extremely high, especially with wordpress sites.  Customers expect your website to be available, regardless of how big your pages, or how efficient your server is. For WordPress sites that need specific WordPress hosting, we've developed customized server and Stack to specifically handle WordPress.  We are a great choice for starting and developing your wordpress project -most others host on shared servers with LAMP stack. Scale your business by joining hands with the right technology partner
On our main servers, we run LiteSpeed on custom-built configurations. This web server is able to handle thousand of requests per minute in an asynchronous manner, making it the best choice for enterprise level websites. For the database we use MariaDB, which goes beyond typical MySQL setups by optimizing its data storage engine to be able to handle complex queries easily and is designed from the ground up to be fast. Running LiteSpeed with MariaDB will give your WordPress website the most optimal speed and reliability for WordPress setups – but that's not all.  We've also added a proprietary blend of caching, SEO considerations, and content delivery networks, to ensure your website is always up and always fast. 
Our server security is a sophisticated set of services and tools designed to enhance the security of your data.  We include an advanced firewall, e-mail anti-virus, CDN, and anti-spam systems. We run custom selenium scripts to expose XXS, CSRF, SQL Injection, and other vulnerabilities.  Our maintenance programs are designed to provide you with a proactive service for your WordPress site, where we can update, backup, upgrade, and test for vulnerability- ensuring stability and security.
How fast is LiteSpeed Web Server (LSWS)? Crazy Fast.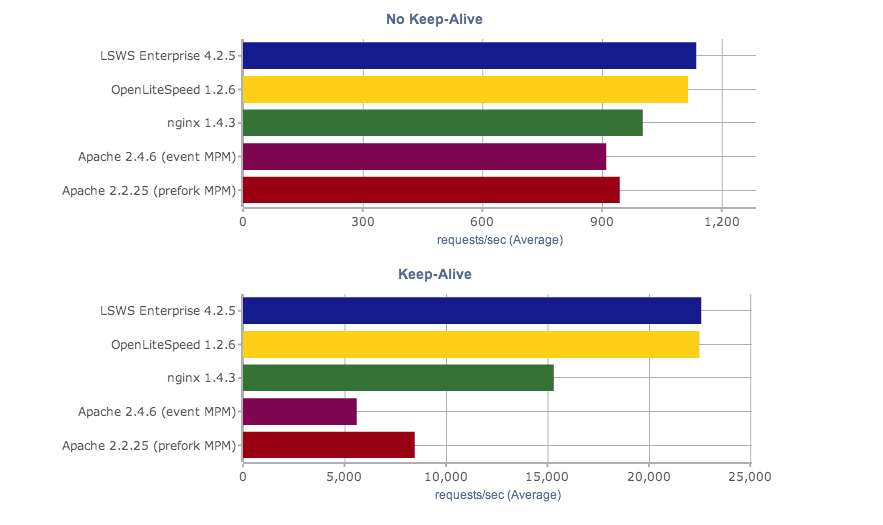 Content Delivery Network (CDN)
We use CDN services to replicate your website across 100's of other servers, ensuring that the user will be able to download your website quickly, using the closest server to their physical location.  Cloudflare is a powerful CDN prevents DOS attacks and keeps your site running if it becomes compromised or hacked.  We also provide an SSL, which not only helps with security but also helps your SEO. This is an extra layer of protection and first line of defense for your website! 
Firewall and Brute Force Protection
Advanced Firewall (CSF) and Brute Force Protection (LFD) is installed and configured on your server. All ports which are not needed are blocked off, and we employ both ingress and egress filtering methods to provide the high level of protection against attacks.  We also have a special 3rd part firewall which we can enable for customers, called WPFirewall. 
Spam Protection and AntiVirus
We use a custom blend of Realtime Blocklists (RBLS), SpamAssassin, ClamAV Anti-Virus, and SMTP-level hardening.  We can block the 3 major countries where attacks originate from: Russia, Turkey, and China.  We can also block IP ranges and blacklist DDoS attempts permanently. 
Operating System Level Hardening
Starting at the network level, we optimize the Linux TCP/IP stack for maximum performance and then harden the system against common network level attacks. At the Operating System level, we remove all unnecessary packages, disable unused services and processes, and configure system daemons for increased security and performance.
What does this mean? 
Worry Free WPHosting, conducive to best SEO practices, with 99.9% Uptime

Your site is always on.